Here's the digital "card" that served as our wedding invitation via PaperlessPost.com: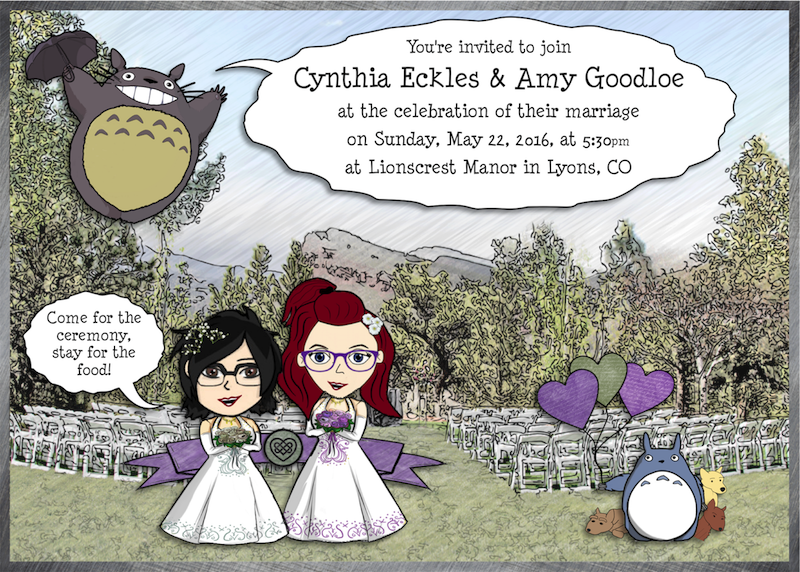 CARD DESIGN FYI
Who are the brown and blue creatures?
They're from one of Cynthia's favorite animated films, "My Neighbor Totoro," by the legendary Japanese animator, Hayao Miyazaki. The brown one is a woodland spirit called Totoro, and the blue one is his smaller companion.
Who are the dogs behind the blue creature?
Those are cartoon versions of our three Chihuahua mixes, which Amy created in Pixton. The tan dog is Amber, the yellow dog is Dulcie, and the reddish brown dog is Holly.
Who drew the chibis?
Cynthia created her chibi's head on xiibi.com, and Amy modified it by replacing the eyes and adjusting the hair and skin tone.
Amy used a chibi she created on xiibi.com as inspiration but drew the new chibi head from scratch using a drawing app for Mac.
Who drew the wedding dresses?
Amy traced some clip art images and modified them extensively to suit the design.
What's the setting in the background?
The background is a composite of several photos of the ceremony area at Lionscrest Manor.
What apps did you use to design the card?
Amy used Pixelmator for image editing and Comic Life 3 for layout.